1
---
Choose a plan
Pick from one of our many plans. If you need any help, our friendly sales engineers will be glad to help!
2
---
Configure your VPS
Customize and configure the VPS the way you want it - including location, OS and additional features!
3
---
Start using your VPS
The VPS gets deployed immediately after payment and is ready to be used within just a few minutes!
| CPU | vCores | RAM | Storage | Bandwidth | Price* | |
| --- | --- | --- | --- | --- | --- | --- |
* Prices are VAT excluded.
---
Servers packed full of features
A tiny bit of the things that make AlphaVPS the best VPS provider in the world.
Full Root Access
All of our VPS come with full and unrestricted root access.
Easy control panel
Our services come with fully-featured and intuitive control panel.
Secure servers
Security is a top priority for us and we take every possible measure to keep your data safe!
Fast SSD Arrays
Blazing fast RAID10 SSD arrays and loads of RAM will make your app fly!
Instant Setup
The VPS gets setup automatically after a completed payment.
Premium network
Our network consists of Multiple Tier-1 providers, coupled with a ton of local peering.
Amazing support
Our friendly support team is ready to assist you 24/7/365.
Chill refund policy
We are sure that you will love our services, so we offer a 14-days money-back guarantee!
---
Get a Standard DirectAdmin license for $29.00
FREE!*
Receive free DirectAdmin with every purchased VPS.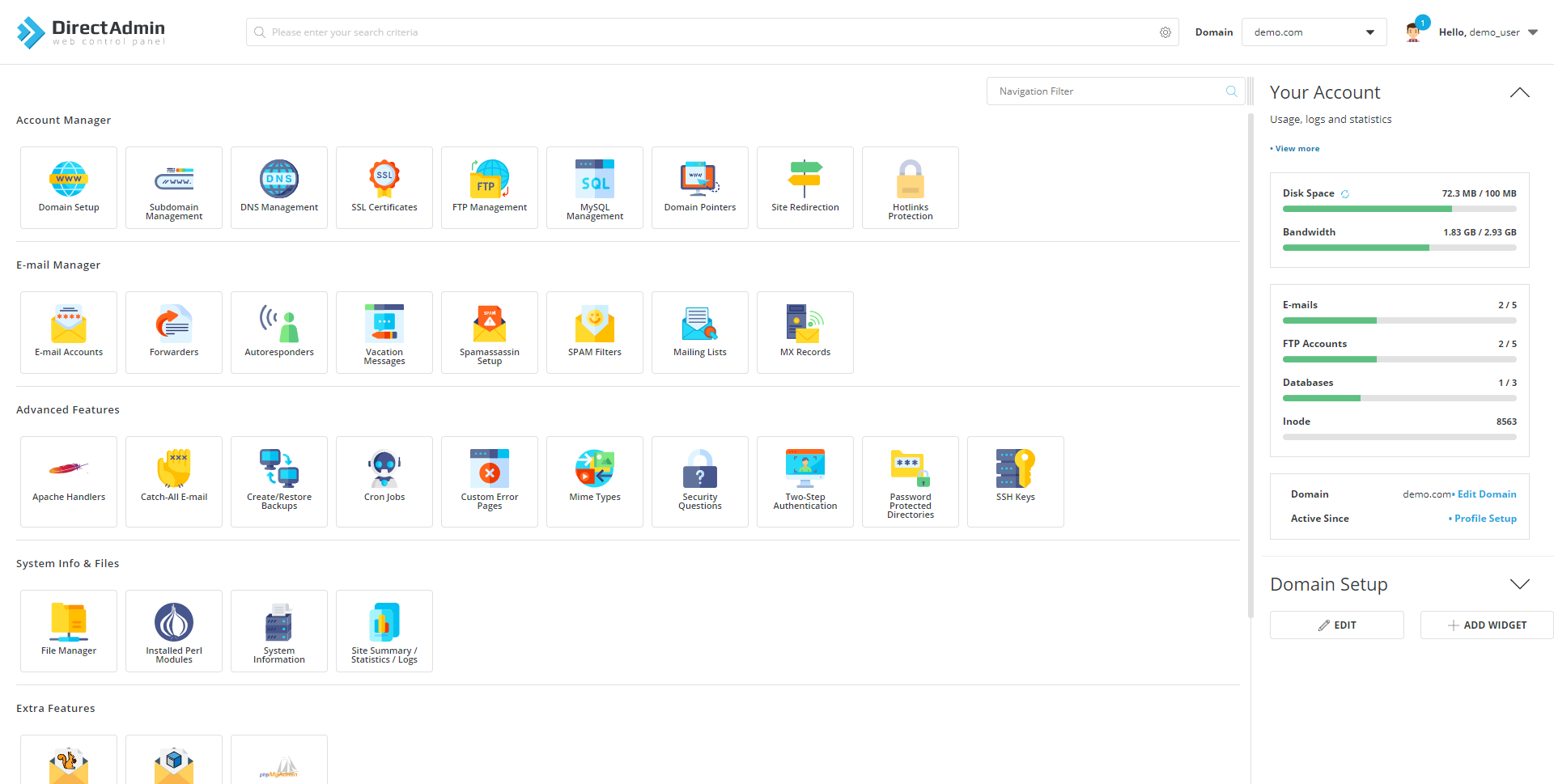 DirectAdmin is one of the leading web hosting panels. It provides an easy and intuitive graphical interface, along with a ton of configurable options, making it a very powerful solution for hosting all kinds of websites. DirectAdmin is designed to be easy, fast and stable and runs on a lot of Linux distributions.

DirectAdmin is a great and cost-effective replacement of cPanel and Plesk.

AlphaVPS includes a free DirectAdmin license, along with the purchase of a VPS. In addition - our friendly support team can also perform the initial installation upon a purchase!
* This offer is available for plans > 10EURO only!
---
Why Linux VPS?
Very affordable
Our cheap VPS plans are perfect when you're on a tight budget! Feature packed and backed by our phenomenal support!
Great performance
All VPS plans reside on very powerful Dual Intel Xeon E5 nodes, with huge RAM allocations and blazing fast RAID-10 SSD arrays.
Amazing network
With over 500+Gbps of aggregated capacity, our Juniper-based low-latency network will make your websites fly.
---
We care for you
The team at AlphaVPS is dedicated to providing exceptional services and support. We believe that our Customers' success is our success as well and we're committed to taking customer experience to a whole new level!

Our team takes care of the server infrastructure, leaving our Customers with more time to work on what matters the most - their business, their code or their website.

No escalations, no tiers and no hand-offs. All of our support engineers are highly trained and will help you solve your problem in the most efficient way possible, without wasting any time.
---
Our global locations
AlphaVPS offers affordable VPS and servers from 5 locations, across Europe and the US on premium low-latency network.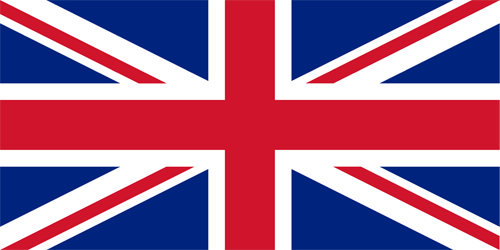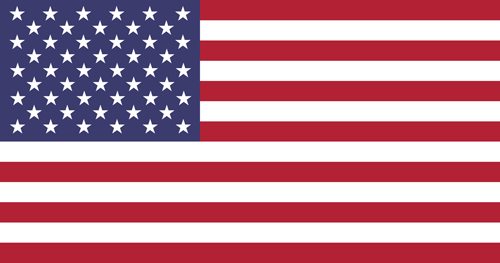 ---
Available Operating Systems
Available OS templates for an easy 1-click reinstall at any time.
Ubuntu
Debian
CentOS
Fedora
Suse
Ubuntu
Ubuntu is a popular Debian-based Linux distribution developed by Canonical, loved for it's simplicity.

Ubuntu is the perfect choice for both development and production environments and is powering many of the biggest OpenStack clouds.
Available templates
Ubuntu 16.04 LTS x64
Ubuntu 18.04 LTS x64
Ubuntu 20.04 LTS x64
Debian
Debian is a fast and stable operating system based on the Linux kernel. Debian is composed of free and open-source software and is developed by the community-supported Debian Project.

Debian is a preferred distribution to many SysAdmins and professionals.
Available templates
Debian 9 x64
Debian 10 x64
CentOS
CentOS is a free Linux distribution, which is functionally fully compatible with RHEL, without the commercial support.

CentOS usually offers long-term support and maintenance updates of each major version and is developed with security and stability in mind.
Available templates
CentOS 6 x64
CentOS 7 x64
CentOS 8 x64
Fedora
Fedora is a Linux distribution, initially designed as a Desktop OS. Fedora offers a server flavour - Fedora Server.

Fedora is from the RHEL family, has frequent releases and integrates new technologies rather fast compared to other Linux distributions.
Available templates
Fedora 30
Fedora 31
Fedora 32
---
Our control panel
AlphaVPS' own, fully-featured control panel, makes managing virtual servers as easy as it gets.
https://alphavps.com/clients/clientarea.php?action=productdetails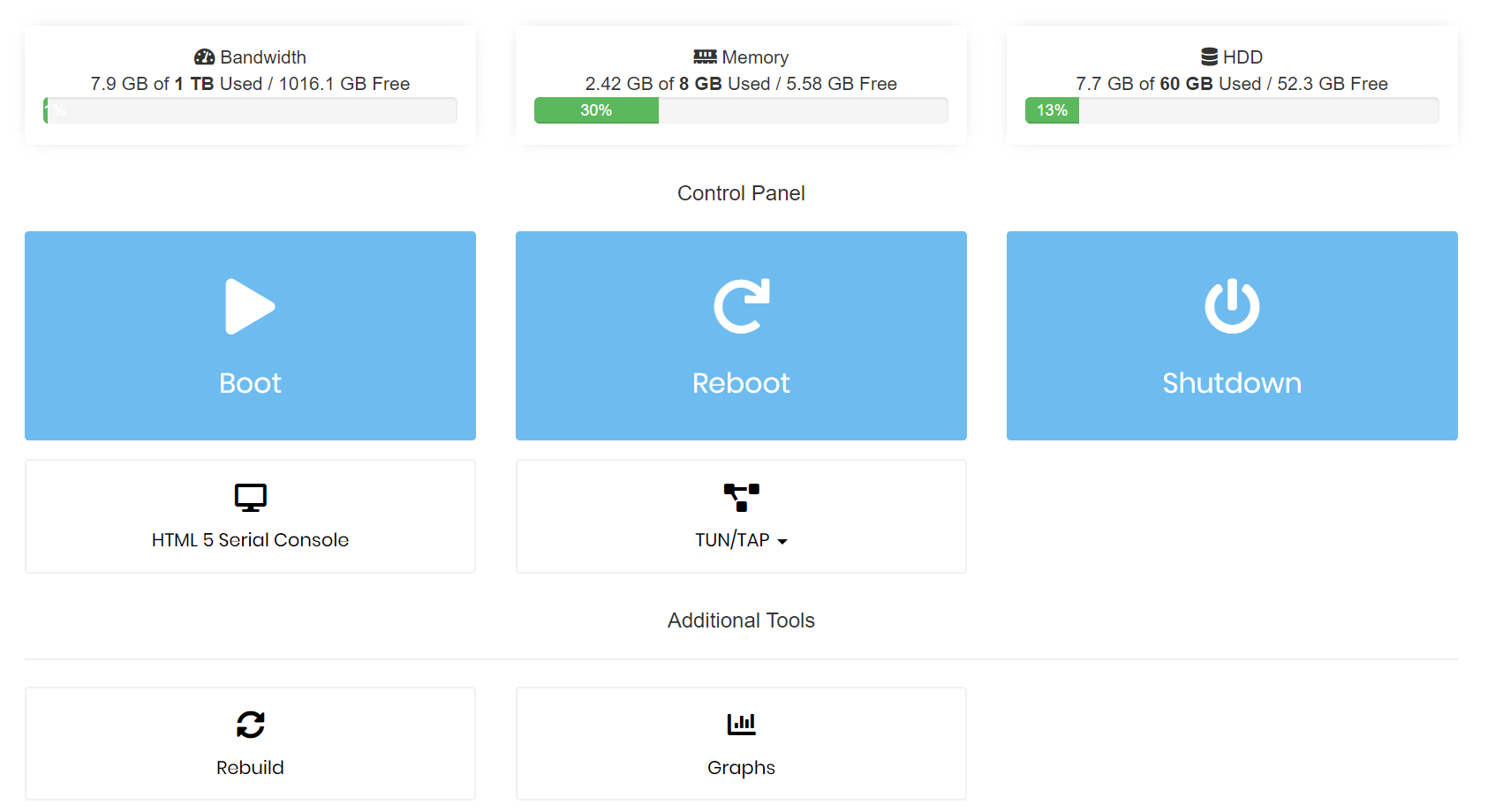 We offer an integrated and fully-featured control panel within our clients area. It will allow you to manage every single aspect of your virtual machine through simple and intuitive graphical interface.
Ability to start, shut down or restart your VPS
Single-click reinstallation
Monitor current and historical usage of CPU, RAM, HDD and network activity
Root password reset
Access HTML5 serial console
Change hostname
Toggle TUN/TAP and PPP
Much more...
---
Frequently Asked Questions
Can I run Docker?
Yes, you can! Docker is supported in OpenVZ 7 and can be used on our Cheap VPS series.
Got any questions?
Our friendly team would be glad to answer all your questions and assist in choosing the right product for you.